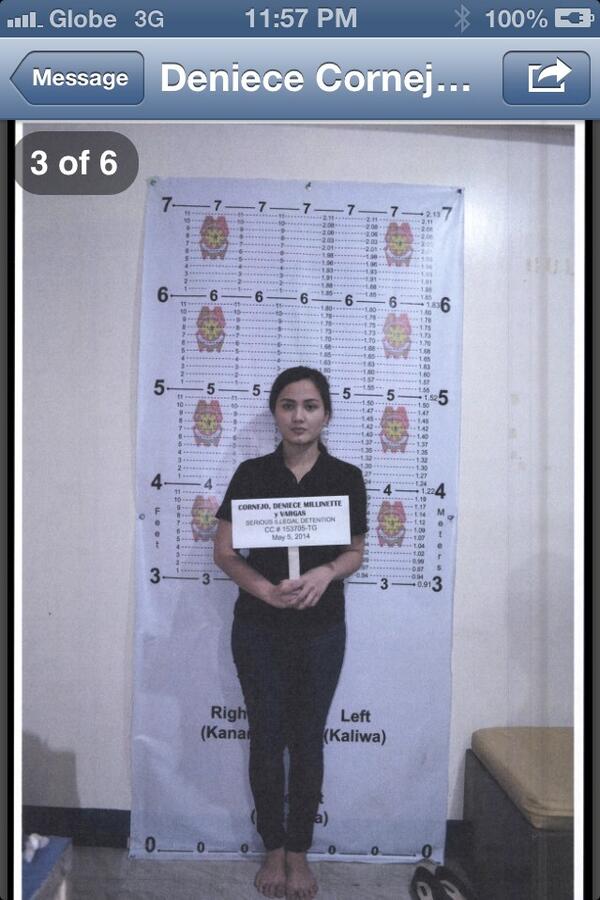 On Monday night, Philippine National Police (PNP)  released mugshots of model Deniece Cornejo, who earlier surrendered  at Camp Crame in connection to the serious illegal detention charge filed against her after  the mauling incident involving  o actor and TV host Vhong Navarro.
Serious illegal detention is a non-bailable offense, however her lawyer said they will file a petition for bail in court since the evidence against Cornejo is weak.
Earlier,  businessman Cedric Lee and Simeon "Zimmer" Raz, Jr. were earlier captured by the National Bureau of Investigation (NBI) who are co-accused in the same case.
Meanwhile, Cornejo spent  the night at the PNP Criminal Investigation and Detection Group's Anti-Transnational Crime Unit detention cell with a number of fellow female inmates.
According to CIDG, Cornejo will be brought to the Taguig Regional Trial Court Tuesday.
ARTICLE SOURCE: ABS CBN NEWS
photo source: abs cbn news